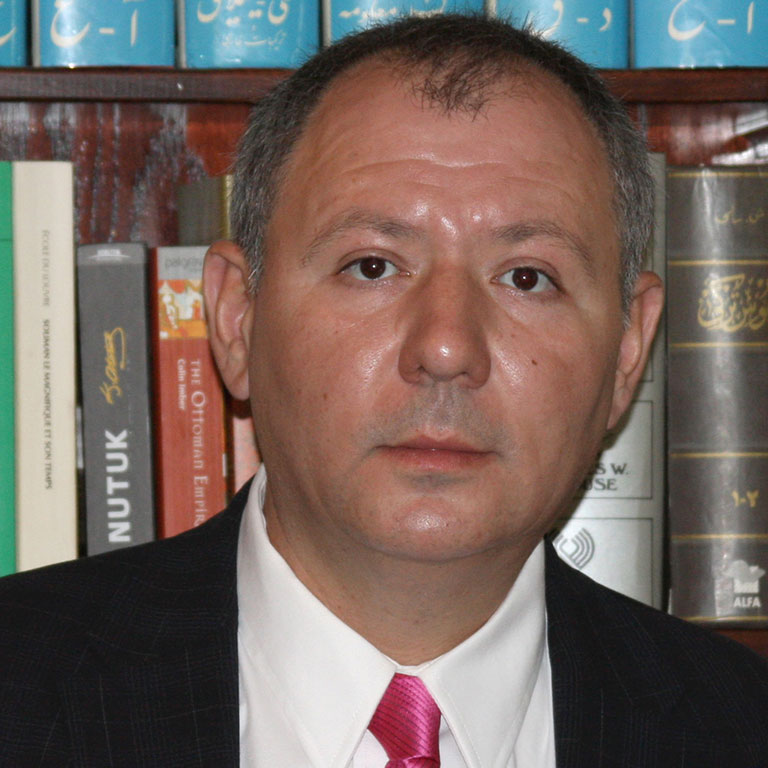 Kemal Silay
Professor, Central Eurasian Studies
Chair, Ottoman and Modern Turkish Studies
Director, Turkish Studies Program
Education
Ph.D., Indiana University, 1993
About Kemal Silay
I believe that the diversity of my academic interests (see my CV) places me in a unique position at the crossroads of literature, historical linguistics, classical philology, gender studies, religious studies, and political theory. I have never seen my research, teaching, or service as "academic obligations." I do them with great passion and dedication.
I earned my B.A., M.A., and Ph.D. degrees all in Turkish Studies, focusing on Ottoman philology, poetry and cultural history, and Turkish language, literature, and politics. I have complete mastery of the languages pertinent to my field, in addition to several other research languages that I read and use in my research and publications. I have successfully demonstrated the ability to disseminate my knowledge and scholarly productions in both the primary language of my field (Turkish) and in English, writing and publishing in both languages with effectiveness. I have become one of the leaders of my field in the United States and abroad, shaping and, in some cases, redefining significant scholarly issues. And despite the consequences of researching and publishing on such topics as Islamism, Jihadism, or same-sex literature in Muslim societies, I have never compromised my research findings and ideas for the sake of avoiding "controversy" or for creating a safe haven for myself, because I believe that a scholar has the ability, indeed the duty, to create and disseminate alternative approaches and ideas honestly and freely. A significant portion of my research has dealt with issues surrounding Islam, and Islamism. Yet, as a scholar, in my research, teaching, and service, I believe, I have successfully distinguished Islam the religion and civilization from Islamism the political program, and militancy.
The publication of my An Anthology of Turkish Literature in the English language changed the reception and teaching of Turkish literature in the United States, and in other English-speaking countries throughout the world, and to this date its function and significance is unsurpassed by any other publication of its kind. At a time when the perception of "Muslims" and the "Islamic World" is being defined, shaped and controlled in large part by Islamist and fascist ideologies and by neo-medieval holy war militancy, I believe that I have tried to do my part in contributing to the notion that Muslims and their fascinating cultural creations, as in the Ottoman and Turkish case, have played an indispensable role in the formation of the world's civilization.
In my 1994 book entitled Nedim and the Poetics of the Ottoman Court: Medieval Inheritance and the Need for Change (which is being translated into Turkish by Dr. Fatih Ülken of Aegean University, Department of Turkish Language and Literature), I partly argued against contemporary scholarship's failure to adequately address the same-sex discourse in Ottoman court literature, especially in the case of Nedim, one of the most significant poets of the 18th century. As this analysis demonstrated, the same-sex expressions in court poetry of the 18th century became undeniably prevalent through this revolutionary poet's free discourse. I also suggested in that book that there were numerous followers of his discourse within the courtly tradition, and that one of the most important of those was Fazıl-ı Enderuni. In an ongoing book project, On the Book of Handsome Ones: Same-Sex Discourse in Ottoman Court Literature, I treat perhaps the single most important manuscript of 18th-century Ottoman same-sex literature: the Hubanname. The manuscript is based on Fazıl's descriptions of "male beauties" from around the world (Istanbulian, Anatolian, Indian, Iranian, Iraqi, Egyptian, Syrian, Yemeni, Algerian, Tunisian, Armenian, Albanian, etc.) and has a unique multi-cultural and multi-ethnic character. Yet, there exists almost no study on this invaluable source due to, I argue, various ultra-nationalist, moralist, and especially Islamist agendas and preoccupations.
My Ahmedi's History of the Kings of the Ottoman Lineage and Their Holy Raids against the Infidels is the foundational work for the study of the rise of the Ottoman state, and with this authoritative treatment and analysis of the manuscript(s), I have successfully put an end to the "textual obstacles" discussion for the interpretation of the earliest Ottoman history. Virtually every scholarly work dealing with the subject refers to Ahmedi's history. I am not a historian, but the earliest Ottoman history that has come down to us happens to be a versified account—something that the highly advanced and established field of "Ottoman history" did not deal with properly for decades, and all the historical readings, theories, and interpretations of it were based on haphazard readings and erroneous textual cognitions. After nearly 600 years since its composition, I believe, I have provided a thorough philological treatment of it for historians in order to allow them to rethink and rework their interpretations of the earliest Ottoman history.
Bir Halk Yazmasının Anatomisi: Seyyid Ebu'l-vefa Menakıbnamesi Üzerine is one of my most recent book projects. Originally I had planned to publish this significant work in English under the title ofVernacular Hagiography and the Nature of Folk Narrative: A Study on the Menakıb-ı Tacu'l-'arifin. The nearly impossible task (at least for now) of translating the highly complex manuscript portion of this fundamental study, given the unusual amount of localisms and colloquial lexical items in both the Arabic and the Turkish sections, has led me to decide to release it entirely in Turkish. My analysis of this highly unique hagiographic manuscript composed for the founder of the heterodox Vefaiyye order, Tacu'l-'arifin Seyyid Mehemmed Ebu'l-vefa-yı Bagdadi [or Kürdi], not only brings forth for the first time detailed secrets of this rather little known heterodox order, but also attempts to introduce such new approaches to Turkish manuscript studies as the reflection of orality in the written text, local dialectology, codicology, and others.
In addition to the books briefly described above, I have written and published numerous articles and book reviews both in Turkish and English. I have done a significant amount of translation of literary texts (some published, many still in progress), and delivered numerous invited lectures and public speeches throughout the United States and abroad, including in some of the most memorable and prestigious institutions of the world such as the Johannes Gutenberg Universität—Seminar für Orientkunde, Turkologie (Mainz, Germany), the Woodrow Wilson International Center for Scholars, Washington, D.C., and the United States Holocaust Memorial Museum's Center for Advanced Holocaust Studies, Washington, D.C. Despite all these activities, I still managed to devote additional time to the editing and publishing of many significant scholarly volumes—mainly books that I have edited as the General Editor of the Turkish Studies Series.
The meticulous process of editing, organizing, and overseeing the publication of Turkish Folklore and Oral Literature (over the course of nearly three years, from 1994 to 1997) has made a huge impact in the circulation of my teacher Professor İlhan Başgöz's invaluable essays and, as reviews suggest, making the volume available has clearly changed the teaching of Turkish oral literature in the United States and in other English-speaking counties. I feel fortunate to have been able to contribute to the positive reception of Professor Başgöz's scholarship.
I can state with confidence that my appointment as the Editor of the Turkish Studies Association Bulletin(subsequently, under my editorship, renamed the Turkish Studies Association Journal) was a turning point in the history of this most important scholarly publication of the Turkish Studies Association of North America. Under my editorship, the journal went through a remarkable transformation. I have worked vigorously in establishing and maintaining the scholarly excellence that the journal desperately needed, and it has become one of the leading resources for the dissemination of high-quality scholarship in the field of Turkish Studies.